Inner tubes.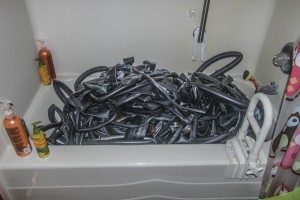 Many inner tubes.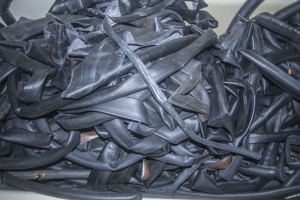 SO. MANY. INNER. TUBES.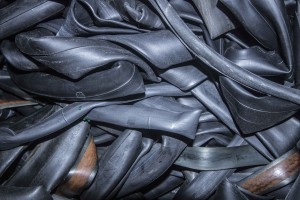 At my request, the awesome employees of Bike N Hike in Albany have been saving old inner tubes accumulated through the bike repair side of their business. (Those guys are awesome. I highly recommend them for your biking and hiking needs. I'm not at all biased, I swear.) I completely failed to anticipate the sheer volume of rubber that would come my way. Still, it's great to have a huge supply so I can feel free to experiment and waste a lot of rubber with my screw-ups.
Before I can use the inner tubes to make pouches and whatnot, each one has to be cut open and cleaned. Did you know bicycle tubes are coated with white powder on the inside? In addition, some tubes are filled with a mysterious slimy goo. I learned the hard way to make a tiny cut to see what I'm dealing with before slicing it all the way open.
Why am I going to all this trouble? I'm glad you asked, hypothetical reader! It turns out you can turn inner tubes into all sorts of cool shit. Pouches, belts, wallets, jewelry…just about anything you can make out of leather, really. Here's a gallery of just a few examples (click any picture to view a slide show with commentary):
This gallery includes other styles of rubber flowers.
There are people out there who are much more experienced with this medium. Check out the work of this artist. And how about this suit of armor? A search for "inner tube art" on google will net you a ton of amazing stuff.
If you want to try out tube crafts, I recommend the guide by Bicitoro. You can also refer to this handy list of tips I put together through trial and (mostly) error:
1.) While slitting the tube along the inside curve will give you the flattest slab of rubber, it's sometimes worth sacrificing that ease of use if cutting in another place will let you feature cool lettering or patches.
2.) A single standard tube doesn't allow for long enough strips to box braid. I tried a lot of complicated solutions (machine stitching, various glues, etc.) before I figured out the best method is to simply knot strips together at the ends. Not only is it secure, the join isn't obvious on the finished piece.
3.) Rubber does not taste good. (Tip provided by my cats, who LOVE playing with whatever material I'm working with.)
4.) Dedicate a pair of scissors to cutting inner tubes, and be prepared for them to dull quickly.
5.) The easiest way to clean the flattened tubes is to lay them out in a bathtub, scrub with dish soap and a kitchen sponge, and rinse with a shower wand.
6.) Say goodbye to clean fingernails.
7.) Be sure to have your favorite coping mechanism handy for when your sewing machine and the rubber refuse to play nicely with each other. Hours of snarled thread, crooked lines, tension trouble, and finicky feed dogs are guaranteed to make you stabby.
8.) When in doubt, use glue. A LOT of glue. (Actually, that's a good motto for life in general.) It still might not work, but making a huge mess will make you feel a little better. Bonus points if you can trick someone else into cleaning it up.
9.) Cut and roll up inner tubes immediately for storage, even if you don't have time to wash them yet. They take up way less space that way. This will also help flatten out any annoying creases.
10.) Snorting the powder inside the tubes will not get you high. Don't ask me how I know.