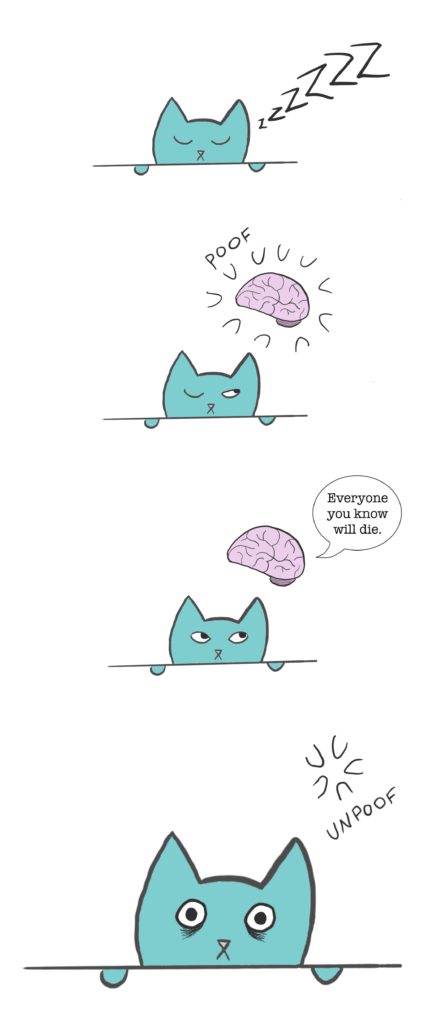 What?
I just remembered the lyrics to that song you were humming earlier.
That's nice. Now shut up.
No need to be rude.
It's four in the fucking morning. I feel like this revelation could have waited until my alarm went off.
I'm just trying to help.
Right. Great. Thanks. Now GO TO SLEEP.
Remember the time you wet your pants at school? Let me play that scene for you in vivid detail.
No.
Here it is from another angle.
Please no.
I bet you can feel the humiliation even now. The white-hot embarrassment creeping up your spine, the tears struggling to escape your closed eyes, the feeling that everyone in the world is staring at you…
Stop it!
Okay, fine. Let's change the subject.
Please just let me sleep. Please.
EVERYONE IS DEAD.
What? No they're not!
Well, if they're not dead, they will be someday, including everyone who cares about you. Maybe even tomorrow. How would that make you feel?
Stop.
Maybe they'll get hit by trucks. Maybe they'll be poisoned. Maybe murderers are breaking into their house this very second. Maybe you'll wake up and be all alone. Forever. 
Stop…please…
And it will be your fault, because you fell asleep. The only way to keep everyone alive until morning is to stay awake picturing them living another day. And you can't let your concentration slip for even a moment, or they'll die. Horribly. Cursing your name.
That's almost certainly not true.
Yes, it is.
No, it can't be.
Yes, it–
SHUT UP! I have shit to do in the morning! If you don't knock it off, I swear I'll stick you in a blender on the "puree" setting and have a brain smoothie for breakfast.
Okay, jeez. I'll let you sleep.
Thank you.
Sweet dreams.
Good night.
Hey, what if there are spiders in here?
I hate you so much.