Hold on to your panties, boys and girls, it's ArtSnacks time again! October's box was a home run.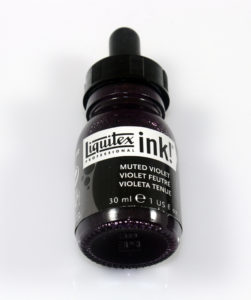 Special Release Muted Collection: Liquitex Professional Ink
$8.95 retail
This month is #Inktober. So, naturally, October's box includes a bottle of Liquitex acrylic ink.
I gotta say, I am SOLD on Liquitex's new muted collection. The muted violet color they sent me is fucking gorgeous. I actually already own a set of their basic colors–which are fine but not outstanding–but this shade is so good I'm tempted to use acrylic ink a lot more often just so I can justify buying the whole damn collection.
Downsides: For my purposes, the ink dries a little too quickly, which means you have to move fast if you want to do any blending. Also the cap is a bitch to get off if you close it too tightly. (Nice built-in eye dropper, though.)
Uni-Ball Signo White Gel Pen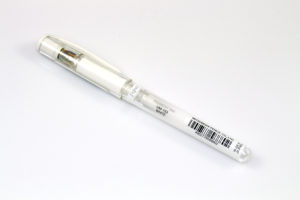 $3.75 retail
My current favorite writing pen is a black Uni-Ball Signo (bold tip), so I was excited to try out this white version.
White ink seems to be hard to get right. I've got a bunch of white gel pens I've acquired in my search for one that doesn't piss me off, but they always seem to be too watery or transparent or unreliable or inside a porcupine or something. This one is my favorite by far. I stress-tested this bad boy by using it to color an entire ghost (see project), and it performed admirably. Nice and opaque, stayed where I put it and fast-drying.
Note: Don't try this at home, folks. A ball-point pen is not the right tool to fill in a large area. It worked, but I used a LOT of ink and it took forever to fill in all the little gaps. I still feel bad about abusing a pen that never did anything to deserve it…unlike micron pens, which need to be taught a lesson. Seriously, I hate those little bastards. The many, many artists who swear by microns clearly need treatment for Stockholm syndrome.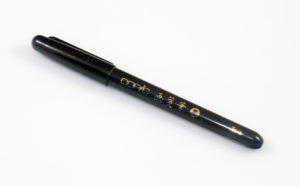 Copic Gasenfude Brush Pen
$7.49 retail
I have never gotten the hang of using brush pens properly, but now I want to learn. This pen is just that awesome. It reminds me of a really good eyeliner. It's easy to control, and it only takes the lightest touch to get a smooth line–perfect for a hesitant sketcher like myself. This pen will be a lot more useful to me than Copic's intimidating line of markers.
Lauren Series 4350 Watercolor Brush by Princeton Brush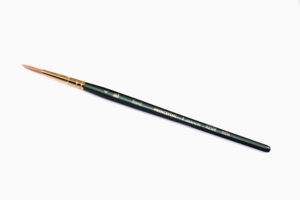 $5.75 retail
I really like this brush. It's very precise and holds a lot of ink. It's not very good for washes, but the springy bristles come to an effortless point for getting color down into stubborn nooks and crannies.
The Project
I had a hankering to use one of the little canvas boxes I have lying around. I dripped the ink some places, brushed it on others, layered it, and blotted to get a nice mottled background. I drew a goofy ghost with the Copic pen and filled it in with the Signo. The white gel pen was great for cleaning up any stray marks around the edges of the lid. (Yes, I make mistakes. Try to act shocked.)
Click the first picture below to see a slide show (with commentary!) of my Halloween treat box. It's a treat box because I say it is. Work with me, okay? Imagine it full of candy and the souls of your enemies.