I received my first ArtSnacks box this month! If you subscribe to any whatever-of-the-month services, you already know how these things work. You give a company money, and every month they send you a box of samples related to your interests. This particular box service curates several full size art products around a central theme. It costs $20 a month, and is a great way to try new stuff without having to do your own damn research. (There is also a great bad pun on the included "menu:" Why was the painting sent to jail? Because it was framed. Heh. Haha. Ahahaha! AHAHAHAHAHAHAHAHAHAHAHAHAHAHAH!!1! I think it broke my brain.) Since I know my opinion matters to everyone, I put together this little review.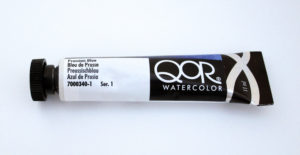 QoR Watercolor by GOLDEN (Prussian Blue)
$15.79 retail (Prices are stated on the card that comes with the box. I have not researched to see if they're accurate.)
I fucking adore GOLDEN acrylic paints. I'm not much of a watercolor-er, but I was interested to see if this paint color was as saturated as the acrylics. I've tried other brands for background effects, but never really gotten the color payoff I wanted.
Again, I'm no expert, but this paint seemed pretty damn good to me. I used a LOT of water to get a drip effect, but the color stayed vibrant. I'd love to see what a real watercolor artist could do with this.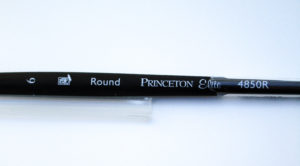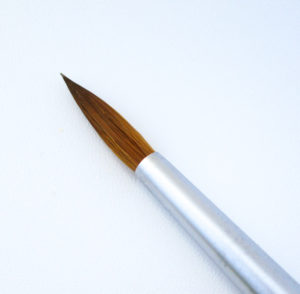 Elite Synthetic Kolinsky Sable Brush by Princeton Brush
$12.50 retail
The selling point of this brush is that it behaves like a traditional sable brush but is actually synthetic. I've always used synthetic brushes, so I'm unclear on the difference. (Did I mention I'm totally unqualified to review watercolor stuff?) This brush is fine as far as I can tell, but nothing special. I did find myself wishing it could carry more water, but it's not a wash brush, so I can forgive that. It is nice to now have a dedicated watercolor brush like all the cool kids.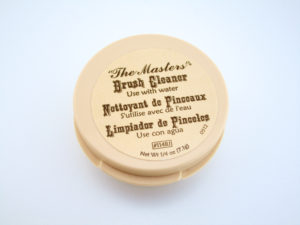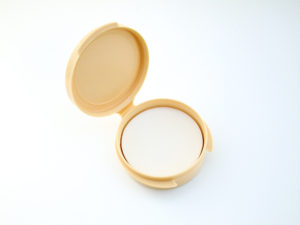 The Masters Brush Cleaner & Preserver by General Pencil
$2.59 retail
I use solid brush cleaners to maintain my makeup brushes, and I was gratified to discover there's a similar product for art brushes. It cleaned off the watercolor brush just fine even after I left the paint to dry on it for a couple of days WHICH I SWEAR I DID ON PURPOSE TO THOROUGHLY TEST THIS PRODUCT AND NOT BECAUSE I FORGOT TO CLEAN IT EARLIER I NEVER PROCRASTINATE STOP LOOKING AT ME LIKE THAT.
Damn if this cake of soap isn't tiny, though. I don't think it'd be convenient to use on a brush any larger than the one they sent me. Also, I haven't tried it on anything other than watercolor paint, which isn't exactly tough to remove. I'll post an update when I get a chance to use it on an acrylic paint-caked brush.
UPDATE: I let acrylic paint dry completely on a fine-tipped paintbrush, and the cleanser took it right off! More updates when I try it on a big-ass brush (provided I remember).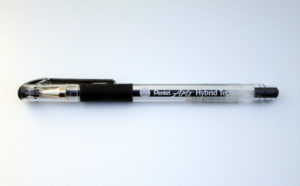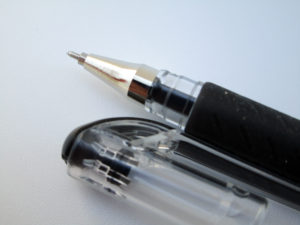 Hybrid Technica Roller Ball Pen by Pentel Arts
$2.99 retail
According to the card, this pen "boasts a tungsten carbide…roller tip that keeps your line consistent." It's also advertised as lightfast and water-resistant. Sounds great, right?
Well, lightfast it may be, but water-resistant it ain't, much. While the words will still be legible after swiping over the dry ink with water, there will be a lot of smearing. It's kind of weird this was included to be used with all the watercolor stuff. Plus, the line isn't as consistent as all that. It's really easy to get a blank trail down the center of the line if you're not really careful about how much pressure you apply. This pen is really pleasant to use as an everyday writing pen, but I'd say it's only adequate for serious drawing.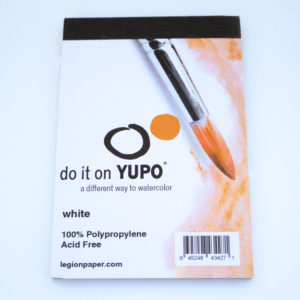 Yup Watercolor Paper by Legion Paper (bonus item)
no price provided
This miniature pad is really intriguing. Unlike traditional watercolor paper, this stuff is nonporous. As you'll see below, I was able to get some really cool drip and swirl effects with it.
The downside: The instructions warn you to be careful not to smudge the paint as it's drying and that it's possible to wipe the paper clean afterwards. What it does not say is, "Don't handle your work at all, because the slightest touch will smear the shit out of it even after the paint is dried." It should. I recommend making copious use of a fixative when you're done.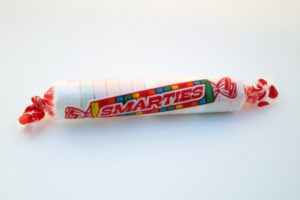 Smarties
WTF
Apparently this month's ArtSnacks were curated by my great-aunt, who coincidentally also gave me Smarties the day I got the box. I'm always happy to receive candy, but I hope next time they send chocolate.
The Project
I challenged myself to use all the products (except the soap and the Smarties) in a single project. Please click the first picture below to see a slideshow with captions.