ArtSnacks is a monthly mailing service for art supplies. For a fee of $20 per month, ArtSnacks sends four to five full size products, sometimes including exclusive items. (They also put a piece of candy and a horrible art-themed joke in each box.) Visit ArtSnacks.co for more information.
I am not affiliated with ArtSnacks, and I don't receive any kind of compensation for writing about their stuff. I'm pretty sure they don't know I exist.
Robert Simmons Acrylic Short Handle Paintbrush
$5.99 retail (all prices as stated by the information card included with the samples)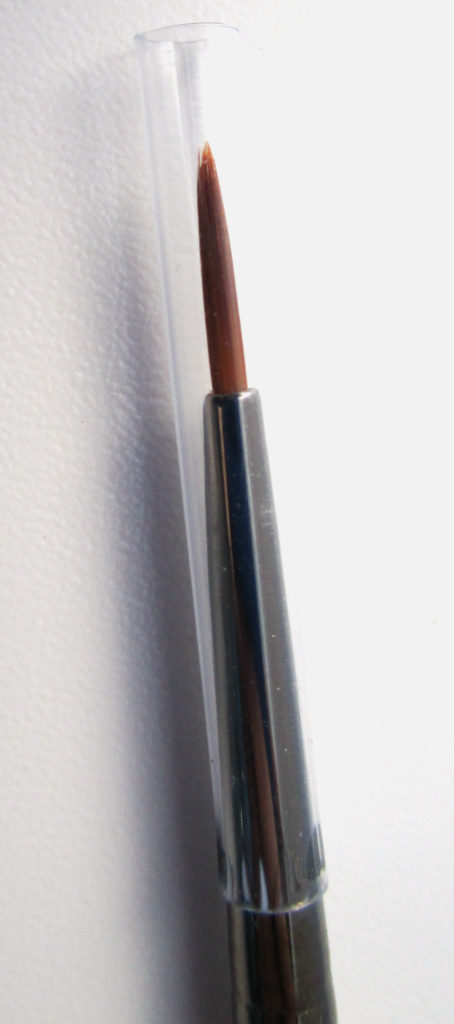 This synthetic fiber brush is billed as an Exclusive! First! Look! for ArtSnack subscribers. It's from a new line by Daler-Rowney. ArtSnacks describes the brush as providing "…both the softness and the control that you need in order to get the most out of acrylic painting" and as "…hold[ing] the paint without losing its shape." Sounds good to me.
I don't do any set-out-to-depict-something-specific painting, but I do work with acrylic paint to get abstract effects (mostly on random stuff, but occasionally on an actual grown-up painter canvas). I don't have a lot of fancy brushes, but I was intrigued by the purported precision of this brush. My hands often shake like a shaved chihuahua, so I'm a sucker for anything that offers really good control.
Keeping in mind I'm no expert, I think this is a very nice brush. I like the short handle. It keeps its point well. I'm satisfied with the amount of paint it can carry. It doesn't shed. I've no complaints, except that it doesn't magically transform me into someone who can draw a straight line. Turns out a fancy brush isn't much help if you can't keep your hands steady. Who knew?
Daler-Rowney System 3 Medium Body Acrylic Paint (Process Magenta)
$6.50 retail
I'm devoted to Golden acrylics. (Seriously, I would take a bullet for that brand of paint. You need some.) Therefore, it's going to be hard to sell me on any other brand. But for your sake, dear reader, I sacrificed my principles and gave this magenta paint a shot. What follows is a comparison between the D-R paint and my golden standard.
See what I did there?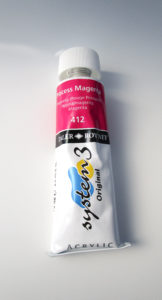 Golden heavy-bodied paint in quinacridone magenta (the closest thing I had to the D-R paint) is thicker and more opaque. It also seems to have significantly more pigment. The D-R medium body acrylic doesn't apply as smoothly, either.  It's pretty splotchy unless I'm careful about keeping a lot of paint on the brush. Maybe a painting expert would be happy with it, but I find it a bit finicky for my purposes.
On the other hand, Daler-Rowney paint is certainly cheaper. (The Golden magenta I compared it to is $15.99 for a two-ounce tube on Amazon. The sample is $6.50 for 2.5 ounces.) I wouldn't hesitate to use it to cover a large area in order to save my precious Golden paint for detail work. It's adequate paint; it just doesn't compare favorably to my favorite brand.
Copic Classic Marker (Blue Violet – BV08)
$7.99 retail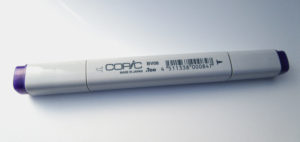 I was pretty damn impressed to find this marker in my box. (In my ARTSNACKS box, you filthy pervert! Lean over here so I can slap you.) Copic markers are no joke. They're fucking expensive and meant for Serious™ artists. I actually own a couple, but I never use them because my meager sketching skills are unworthy of their fanciness.
I like the color they sent… although it doesn't seem to be the vivid purple displayed on the cap. To me, it looks more like a navy blue with just enough red in it to make it technically purple.
Anyway, I can tell the marker is awesome, but other than that I'm not really fit to judge. It shades beautifully. You'll notice on my final project that I was able to make the color darker close to the stars and blend it out to a more transparent effect at the edges. The down side is that the ink bleeds a bit too much to make a really crisp line without effort, as I discovered when I tried to use the fine tip to carefully stencil some letters. (See draft pics below.) Actually, it's possible that I was doing it wrong, maybe by moving it too slowly while I outlined. This marker is probably just too advanced for me. I take it back! Please accept my repentance, O Holy Copic!
I will seal this offering in a jewel-encrusted reliquary with my other two Copic markers. Then I'll embark on a sacred journey to the mythical land of Artopia, fight my way past the silent monks—feared for the pain they can inflict with a simple paintbrush—and scale the tallest mountain. After passing the three trials of the manticore who stands guard, I will place the chest on the dazzling altar of Draw-o-met, goddess of intimidating art supplies. May she bless my next ArtSnacks box with something I'm skilled enough to use.
Small 3D Zip by Baggu
$6.50 retail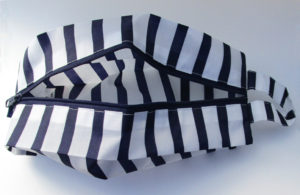 Blah blah blah…it's an expanding bag…blah blah blah…kind of transparent…seems well constructed…blah blah blah…no particular use for it, but I'll think of something… I gots nothing interesting to say about it. Machine washable. Giant loop on one end (for some reason). Meh. I'll update if it turns out to be super useful or if it falls apart.
The Project
I didn't have any spectacular ideas, but I owe my great-aunt a letter. I usually decorate the paper when I write letters, so I decided I'd see what I could do to use the supplies to make an interesting pattern. (Except the bag. It makes a lousy paintbrush.) The paint applied really well to a homemade stamp, and I had fun experimenting with the marker. I admit I cheated a bit. As you can see on my experiment page, I couldn't come up with an attractive way to use the fine-point brush. I finally just used the end of the handle to make dots.
Please click the first picture below to see a project slide show with commentary.